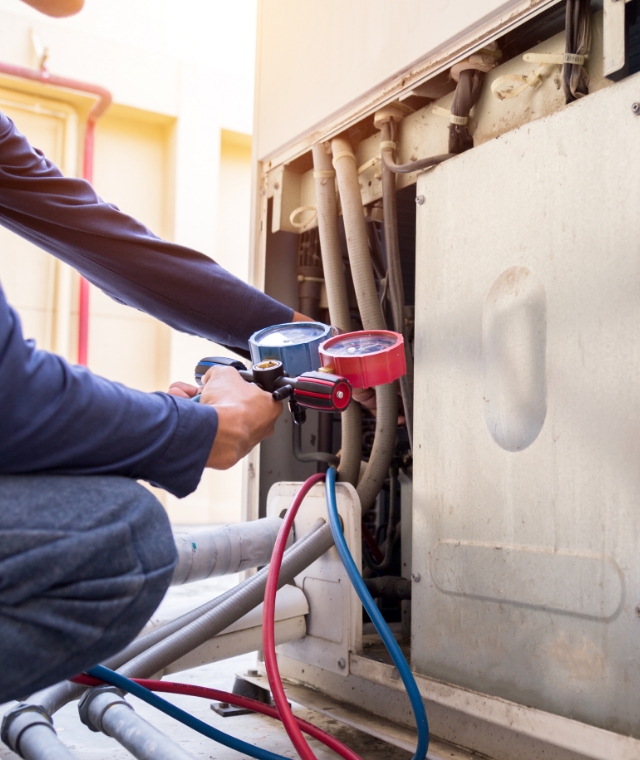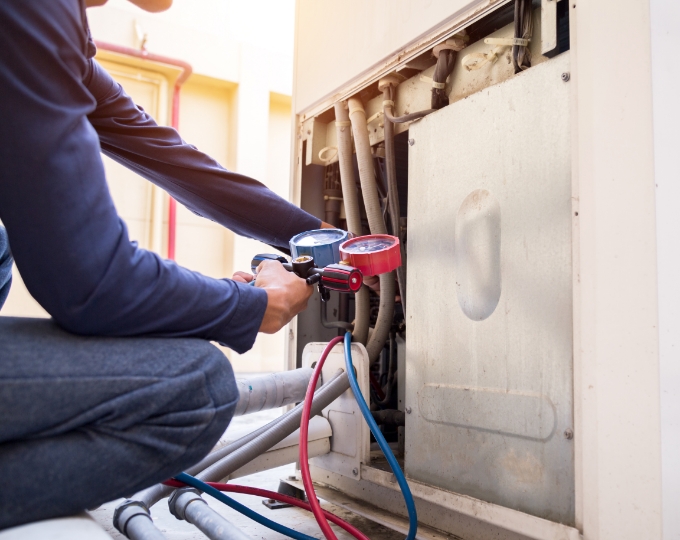 Enjoy Even Temperatures Throughout Your Home with Professional HVAC Installations
Do you dread the summer months when it's hot outside and too stuffy inside? Do cold winters keep you in bed, unable to escape the chill even though you have a working heating system?
Discount Solar HVAC installers can help you find relief from extreme temperatures. Our experienced, professionally trained staff can provide installation of the right HVAC in Bakersfield, CA that will keep your home at an even temperature, no matter what the outside weather is like.
Make sure you're comfortable all year round with an HVAC system installation from Discount Solar. Our technicians will give you more than just superior products and precise installations – they'll also show you tips and tricks for making the most out of your system so you can get the most out of your energy savings.
Don't let seasons dictate your comfort level. Take control of your home temperature with the professional HVAC Bakersfield residents deserve from Discount Solar professionals. Enjoy even temperatures throughout your home today.
Get a Professional HVAC Install – Done Right the First Time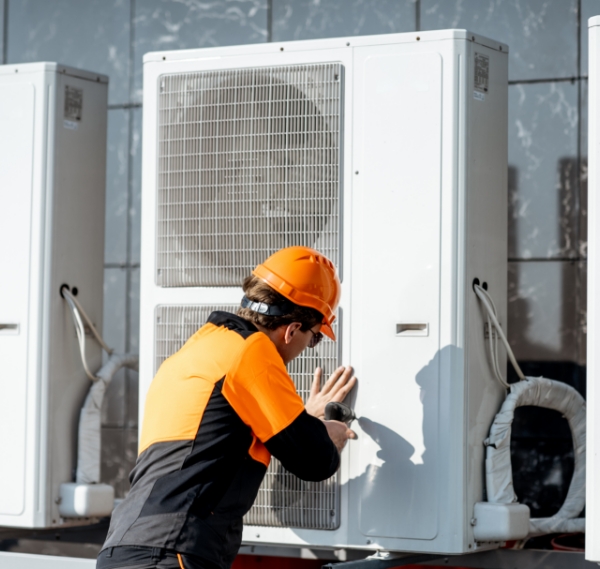 Is your home's heating, venting, and air conditioning system needing attention? Don't risk it with any old contractor. Trust Discount Solar's experienced HVAC installers to get the job done right – the first time. Our licensed professionals will assess your current needs and make recommendations tailored to your lifestyle. We'll give you the resources you need to maximize energy efficiency, lower utility bills, and improve comfort in your home.
Our installers understand all aspects of HVAC design and installation, from load calculations and ductwork sizing to indoor air quality requirements. They have access to the industry's best products and highest-quality materials to ensure optimal performance for years to come. Our staff can save you time and money by recommending cost-effective solutions tailored just for you.
When it comes to professional installation services for HVAC, Bakersfield residents deserve the best and can trust Discount Solar to get it done right the first time.
Get your HVAC system installed quickly, correctly, and affordably with Discount Solar HVAC installers. Our professional team of certified technicians is trained to execute proper installation to ensure long-lasting efficiency.
Avoid costly errors that can shorten your system's lifespan. Experienced professionals will make sure your new HVAC system is installed correctly and provide you with tips on ventilation, cooling, and energy-saving methods.
Maintain consistent temperatures in all areas of your home with a professionally installed HVAC system. From the living room to the kitchen, we'll make sure comfort is a top priority for you and your family.
Save on energy costs and maintenance fees. With a dependable installation from us, you'll benefit from reduced utility bills and an extended equipment life span.
Relax knowing your home is in good hands. Our HVAC installers have years of experience, so you can trust that they will get the job done right the first time.
Invest in Quality HVAC Solutions for Long-Term Savings
Investing in the quality residential and commercial HVAC service California residents trust and rely on is a smart decision that ensures long-term savings. At Discount Solar, we know the importance of having reliable and efficient heating, ventilation, and air conditioning systems to keep your home or business comfortable year-round. With our top-of-the-line products and expert technicians, you can rest assured knowing you're making an informed decision that will save money in the long run.
We understand that energy efficiency should be a priority when making investments in HVAC solutions. That's why all the systems we offer are designed to reduce energy waste while providing maximum comfort throughout the year. Not only will you benefit from lower utility bills now, but you will also experience improved indoor air quality and reduced maintenance costs down the road.
Enjoy Maximum Energy Efficiency Year-Round
Are you looking for a way to maximize energy efficiency year-round? Our team of experienced HVAC technicians delivers the reliable, professional HVAC services Kern County home and business owners need.
We understand that heating and cooling costs can quickly add up—especially during peak months like the summer or winter. With our services, you can rest assured that your energy use is optimized year-round. Thanks to our advanced solutions, you'll enjoy maximum energy efficiency—all while saving money on expensive repairs.
Our highly trained technicians are equipped with the latest tools and techniques to identify issues before they become costly problems. Whether it's diagnosing air conditioning trouble or finding potential automatic shutdown situations, we're here to make sure your system operates at peak performance all year long.
Benefit from Expert Guidance to Find the Best Options for Your Home or Business
Considering a Home or Business HVAC system but don't know where to start? Let Discount Solar help. Our commitment to energy efficiency, cost savings, and environmental sustainability has helped us become the go-to experts in HVAC technology solutions. We can provide the expert guidance you need to make the best decisions for your unique needs.
Our knowledgeable and experienced team of HVAC professionals is dedicated to providing our customers with quality services that are tailored to meet their exact requirements. Whether it's an installation, repair, maintenance, or replacement – we do it all! We take pride in ensuring that all of our jobs are done correctly, on time, and within budget.
Don't go alone when it comes to finding the right HVAC system for your Home or Business. Turn to Discount Solar for HVAC services in California and get the peace of mind that comes with creative and reliable solutions.
Make Air Quality Part of Your Easily Manageable Home
When it comes to keeping your home comfortable, few things are as important as reliable air quality. That's why Discount Solar provides professional and reliable HVAC services in California to help you take control of the air inside your own four walls. With our expert guidance and top-quality products, we can make air quality part of your easily manageable home life.
We offer a wide selection of HVAC systems from leading manufacturers so that you can find the perfect fit for your needs and budget. Our experienced technicians will install your system with precision, ensuring that your home is well-ventilated and always at a comfortable temperature. We also provide regular maintenance services to keep your air conditioning system running smoothly, so you don't have to worry about costly repairs later.
At Discount Solar, we understand the importance of breathing clean, fresh air in your own home — and that's why we're here to help. Let us provide the expert guidance you need to make air quality part of your easily manageable home life.
If you're ever in the need of heating, ventilation, and air conditioning services, Discount Solar provides California air systems help in the Bakersfield CA area. We have excellent customer service, serve residential and commercial customers, and provide indoor air quality services, AC repair, AC unit repair, air conditioner services, air conditioning repair, air duct cleaning, heating air conditioning support, or even new central air conditioner installation services.
For anyone looking for HVAC in Bakersfield, CA and seeking out contractors or someone reliable for air conditioning installation, reach out to us for same-day service, heating services, performance air, and a free estimate today. Residential customers in Bakersfield CA won't regret it and our fair prices, along with being a local company, make us an ideal choice for good service with HVAC repairs & AC repairs in Bakersfield and Kern county.
The Solar Panel Specialists You Can Trust
Are you looking for a solar energy provider you can trust? Look no further than Discount Solar. With many years of experience, we are the go-to solar energy experts in Bakersfield. Our highly trained and knowledgeable team has the skills and expertise to deliver premium services. We offer competitive prices and comprehensive warranties, ensuring peace of mind for our valued customers.
Customer satisfaction is our top priority, and we take the time to understand your specific needs and provide tailored solutions designed to meet them. We believe in transparency and will keep you informed of the process every step of the way. Plus, we guarantee our workmanship and are always available if you ever need any help or advice.
Don't settle for anything less than the best – choose Discount Solar and get quality solar energy solutions you can trust. Contact us today for a quote and take the first step towards a brighter tomorrow.
Hassle-Free Process, Guaranteed Results
With our hassle-free process and guaranteed results, you can be sure that your solar battery or system is installed correctly and efficiently. Our team of highly qualified professionals has years of experience in the field, so you can trust their expertise to get you on the path to renewable energy.
We understand that everyone's needs are different and that no two installations will ever be the same. That's why we take the time to give you a tailored experience. When it comes to solar power, you can rest assured knowing that Discount Solar will provide you with the HVAC service Bakersfield expects and deserves at an unbeatable price!
Discount Solar was knowledgeable, reliable, and certified in the newest HVAC technology. They really went above and beyond to provide the best service possible. I'd definitely recommend them!
At a time when companies are cutting corners, Discount Solar truly stands out for their commitment to quality. Their attention to detail for our HVAC installation was remarkable. Highly recommend!
I'm so glad I chose Discount Solar for my HVAC services. The team was highly responsive, friendly, and professional. I like that their solar systems come with top-notch warranties. Excellent service from start to finish.